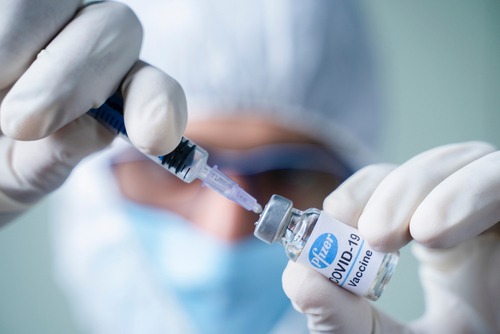 AS OF MARCH 5, 2021, THE U.S. VACCINE ADVERSE EVENT REPORTING SYSTEM (VAERS) HAD RECEIVED 31,079 ADVERSE REACTION REPORTS FOR COVID-19 VACCINES, INCLUDING 1,551 DEATHS – A HARVARD STUDY FOUND THAT DUE TO VAERS VOLUNTARY NATURE, LESS THAN 1% OF ALL EVENTS WERE REPORTED.
USING MARCH 5 VAERS STATISTICS, ASSUMING ALL DEATHS HAVE BEEN REPORTED AS REQUIRED, THE LETHALITY RATE OF COVID-19 VACCINES IS 0.0028%.
CDC STATISTICS PUTS THE DEATH RATE FOLLOWING COVID MRNA VACCINATION AT 0.0024% — SIGNIFICANTLY HIGHER THAN THAT FOLLOWING INFLUENZA VACCINATION AT 0.0000265%.
THE PROBLEM
How can we convince people to take a vaccine?
Most people sense or know about the above data. If they don't know they suspect it because none of this is being shared on mainstream media and the amount of censorship is backfiring on the censors. CDC, NIH, FDA, Gates Foundation (the larger owner of vaccine companies in the world) and Anthony Fauci are all proven to be lying to the public.
So how do we overcome the disadvantage of having people highly suspicious of COVID vaccine misinformation?
Does parading a star athlete or movie star in front of mainstream media taking a vaccine shot work?
Not when the athlete dies a week later and the report about "natural causes" is found to be a coverup because the coroner states no autopsy was performed.
Lying to the public so transparently when they are suspicious anyway is a good way to make things worse.
TELLING THE TRUTH
There is only one way to work with people who are suspicious and don't trust country or agency leadership. You have to tell the truth…
Face the music – convincing people with cheap tricks and doubling down on lying just won't work. You have to "face the music" and tell the truth or you have no hope.
The people know the truth when they hear it.
We're at the point now where there are so many lies that the cities and states are repeating it and putting it out like the DOGMA that it is. And organizations like ICANN are suing each of these cities and states for distribution of lies and false information – and each of these entities – cities and states – and removing their misinformation because they know they will not prevail in court.
The city of Los Angeles closed down 33,000 restaurants according to the Times and then was forced to recant when the restaurant association sued them to show their science. Knowing they had none, they withdrew.
Do we really have to sue a city to force them to tell the truth about lockdowns, masks, and vaccines?
ICANN has also sued the FDA and CDC to force them to state they have no comparative tests proving vaccines are safe and effective. Why would we have to take these agencies to court in order to force them to tell the truth?
There is currently a class action suit staging in Nuremberg that will target governments and vaccine companies among others for falsely creating a pandemic – ARTICLE
REBUILDING TRUST
Do these highly unethical entities like the CDC, FDA, Gates and Fauci really believe they can "convince" people to take a vaccine without trust? Over 20% of people polled recently said they definitely would not take the vaccine.
Do we think we can force people in the name of "herd immunity" to take a vaccine when they don't trust it or the people providing it? You realize that herd immunity through vaccination has never been scientifically proven? It's a marketing concept used because it sounds convincing.
How can you bypass trust and expect a population to do what you want?
Fear – you just keep hyping the death numbers to make everyone fearful and willing to do anything. Why continue lockdowns when hospitals are empty? Because it's much harder to keep the population in fear when they're not locked down.
CAN TRUST BE BASED ON LIES?
A number of doctors and scientists have come forward and testified (although not carried by the mainstream media) that they have been forced or coerced to code death certificates as COVID even though most are not deaths caused by COVID. The threat of taking away their license has been used to shut them up.
Can we build a trusting relationship by censoring these reports and expecting the public to overlook the "man behind the curtain"?
How could anyone lie and expect people to overlook it? Well for one thing, everyone believes the following:
masks prevent the spread of a virus – any virus – and the scientific evidence in peer-reviewed studies says this is wrong
lockdowns prevent the spread of the virus – overall statistics for our country and others show that lockdowns not only do not impact death rates but also increase certain kinds of death rates instead.
vaccines are safe and effective – but the death rates and adverse events reported publicly by VAERS are not demonstrating safety – there are more deaths from the vaccines than from COVID itself.
As long as people lie about these things, why should we trust them?
WHO ARE WE TRUSTING?
When someone says something is "safe and effective" don't you wonder about who is saying it?
There are basically 4 companies making COVID vaccines. All of them are serial felons. That is, they've all been convicted in a court of felonies regarding lies about vaccines, deaths, and they've all paid billions in fines and restitution.
The problem is, even when you pay billions in fines, it's just the cost of doing business to these companies who have been given 100% liability protection and money to develop the vaccines.
Why would you trust these people?
SO ONCE AGAIN – HOW DO YOU TACKLE VACCINE HESITANCY?
If anyone is going to lose their hesitancy, clearly it will be after those speaking have demonstrated they can tell the truth and be trusted. Don't hold your breath.